NAILS BILLINGS MT
Our Nail Specialists have created quite a reputation for our signature artificial nail enhancements and shellac manicures and spa pedicures, see why we have been voted Readers Choice Best Nails for 13 years. We would like to invite you to make an appointment today, experience one of our luxurious pedicures, come with a friend or make it a family affair. We have five deluxe pedicure chairs for your enjoyment. We take pride in accommodating bridal parties and special occasions, whatever it may be you'll definitely be back again!
Repairs are no charge as a courtesy for all standing appointments. A wide variety of Nail Art is available for an additional charge. Please book extra time, as all our nail art is hand painted.
Sculptured Acrylic French Nails
(starting prices)
Full Set
$70
with gel polish
$75
Acrylic Rebase with gel polish
(starting prices)
2 Weeks
$45
3 Weeks
$50
French Rebase
(starting prices)
2 Weeks
$40
3 Weeks
$45
Gel Nails
(starting prices)
Full Set
$70
Gel Rebase
(starting prices)
2 Weeks
$50
3 Weeks
$55
Manicures
Nail-issimo! Signature Spa Manicure
Let us treat and pamper your hands; soak, exfoliate, and massage your worries away, finish with perfectly shaped and polished nails.
Allow 60 minutes
$35
Gel Manicure
A dry manicure with perfectly shaped nails finished with gel polish, leave completely dry and chip free for up to two weeks.
Allow 60 minutes
$40
Structural Manicure
Similar to a Gel manicure but done with a multi-flex self-leveling gel to add strength over the natural nails, very durable
Allow 75-90 minutes
$45
Princess Manicure
Celebrate a special occasion for girls 10 and under and teach proper nail care. We will file and shape their nails, trim the cuticles, and add a moisturizing hand and arm massage, finish with polished nails and hand painted flowers.
Allow 30 minutes
$25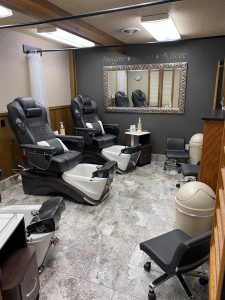 Pedicures
We have five new deluxe spa pedicure chairs. Gather your friends or family and spend some quality time pampering yourself. YOU DESERVE IT!!
Nail-issimo! Signature Pedicure
Choose between nine individually boxed scents for a worry-free spa experience. Whichever you choose your mind will wander while your relax in a luxurious massage pedicure chair as we soothe, soften, and pamper your feet and leave them looking their best.
Allow 1 hour
$ 65
Gel Pedicure
Leave completely dry and chip free for up to four weeks.
Allow 75 min
$ 75
Princess Pedicure
Celebrate any occasion for girls 10 & under. Let us shape and polish your daughters' toes a little foot massage, finished with hand painted flowers.
Allow 30 minutes
$25
Artificial Toe Nails
$50
Rebase
$40